All children may stay for the mid-day meal which is prepared by our cook. Each day, children have a choice of either a hot meal from the hatch or a cold meal from the salad bar.  Alternatively, children wishing to bring packed lunch may do so. On the grounds of Health and Safety, we have a No Nuts Policy in school, which means that nuts or foods containing traces of nuts are not allowed on the premises. We kindly request therefore that parents are vigilant when sending children into school with a packed lunch.  Likewise glass bottles, fizzy drinks and foods containing additives are to be avoided within packed lunches.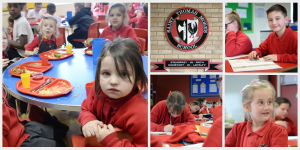 Procedures for collecting dinner money:
Please send all the money for the week in the envelope provided, on the first day of each week.
Please use one envelope only per week, marking the names of your children on the front of the envelope.
Please try to send the correct money and complete the envelope details.
If you need more envelopes they are available from the main office.
Cheques are acceptable, made payable to St Thomas More Primary.
Payment can be made in advance for more than one week.
Children must not change from school lunch to packed lunch without first informing Mrs Bennett in the main office and giving half a term's notice.
Free Meals
A free meal will be available to children whose parents are in receipt of Income Support, Income based Job Seekers Allowance or Child Tax Credit (but not entitled to Working Tax Credit and whose income does not exceed £16,190).  Parents need to come to the main school office to complete an application for Free School Meals.
School Lunch Menus
Please click on the links below to download/view copies of documents:
Enquiries on eligibility for free meals can be made by post to Mouchel, PO Box 98, Housing Benefit, Middlesbrough House, Corporation Road, Middlesbrough, TS1 2YQ. Tel 726541, or in person at Middlesbrough House, Middlesbrough