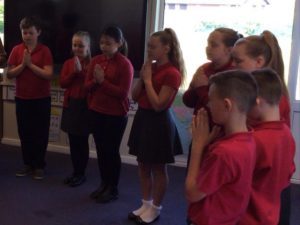 Here at St Thomas More's everyone is welcomed and included as part of God's family. We work in partnership with parents as their child's first teachers to support them as best we can in raising their child in communion with the Catholic faith by we promoting and living the gospel values of Love, Respect, Tolerance, Justice, Forgiveness and Peace.
We encourage our parents to engage with our school as much as possible, offering many opportunities for them to become involved. These include:
Stay and Play
Stay and Pray
Celebration assembly
Mass and seasonal liturgies
Learning together workshops
FAST (Families and School Together)
Healthy families programme
Becoming a volunteer
Our children know that they belong to their home, school and parish family and that it is important that we work together as one family in order to do God's work.
LORIC families
As well as being in their own class group, children leave this to meet twice weekly with their LORIC family. This enable them to develop new friendships and relationships with different children in other year groups using vertical groupings inclusive of Reception to Year 6. The children stay in the same LORIC family throughout their school life, enabling close bonds to develop between other family members and the member of staff who is head of the group.  LORIC stands for:
Leadership
Organisation
Resilience
Initiative
Communication
And these are essential qualities that we want to enable our pupils to grow. On Monday morning the entire school gather together in their family groups. The Statement of the Week is introduced and morning prayers are said together. Our family groups then go to various places within school to spend time together discussing topics that help build leadership, organisational, resilience, initiative and communication skills.
At the end of our busy working week we gather in our groups and as a big family celebrate in song and prayer as well as with certificates, trophies and treats.