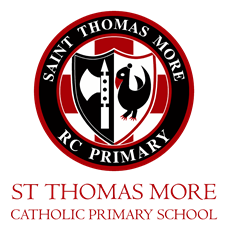 St Thomas More Primary PE Curriculum 
At St Thomas More, we try and give our children a breadth of experiences in PE. Children are given opportunities to participate in activities such as games, dance, gymnastics and athletics. They partake in competitions and every single child is included in physical education.
Our extended school programme has become a great success and children take part with enjoyment and are proud of their success.
In PE, children learn to work together and develop their partnership work, they work in small groups, large groups, as a whole class and individually. Children learn about Physical Education in a variety of ways through Maths, Science, English and other subjects. Our children understand that PE is not a stand-alone lesson but that they can be learning about Physical Education in the classroom indoors and in the outdoor environment.
Our vision for PE is:
To maintain the engagement of all pupils in regular physical activity promoting a positive outlook on maintaining healthy active lifestyles.

Ensuring that the profile of PE and sport is raised across the school.

To continue offering a broad range of sports and activities to all pupils both in curriculum time and in extra-curricular clubs.

To increase participation in competitive sport and ensure that all children including SEN and gifted and talented have a platform in intra school and inter school events.
We aim to achieve this by:
Providing a whole school approach on children's emotional health and wellbeing and children become more resilient in the face of problems. 

Meeting the needs of all children by promoting challenge, providing support and encouraging independence where possible through the use of sport. 

2 hours curriculum time of PE each week (1 hour indoor and 1 hour outdoor) High quality, engaging PE teaching.

Half-termly inter-club competitions to be across key stages that link with the PE coverage. 

A variety of lunchtime and after school clubs accessible for both KS1 and KS2. 

Consistent use of PE passport across school.

Whole school overview of sports and skills that are going to be taught and ensure these link to the inter-house competition
As a result we want our children to:
Increase in confidence and feel more capable at tackling problems.

Be proud of themselves and what they have achieved as a team. 

Stay active and recognise the importance of a healthy and active lifestyle on their health and emotional wellbeing.