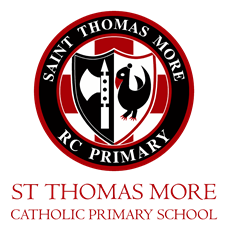 St. Thomas More Primary Art Curriculum
Our art curriculum will inspire children to think innovatively and develop creative techniques.  Art lessons will provide children with opportunities to develop their skills using a range of media and materials. Children will see themselves as artists and be able to appreciate, celebrate artistic ideas from different people, cultures and eras.
Children will learn the skills of drawing, painting, printing, collage, textiles, 3-D work and digital art and will be given opportunities to explore and evaluate different creative ideas. They will be introduced to a range of works and develop knowledge of the styles and techniques used by artists of different eras, genders and parts of the world. Their understanding that the purpose of art is a means of self-expression is to be valued. 
The skills they acquire will be applied at times to cross-curricular topics, allowing them to use their art skills to reflect on and explore topics in greater depth: for example, by sketching historical artefacts in detail or researching geographical locations to support their work on landscape painting. Their skills will also be developed through using art as a medium to express emotion and thought to enhance their personal, social and emotional development. Children will be expected to be reflective and evaluate their work, to think about how they can make changes and keep improving.
Children learn and practise techniques of drawing, painting, printing, collage, textiles, sculpture/3-D work and digital art in all year groups. There is a cycle of lessons for each area of art, which carefully plans for progression and depth. Finished products may be suitable for display in some areas of art; in others, the work may be more experimental and will show progression of skill and technique. 
There is an agreed technical vocabulary for each art technique, which is revisited and added to in subsequent years. Children will be exposed to trips to art galleries and visiting experts who will enhance the learning experience. 
Our art curriculum is designed to demonstrate progression. We measure the impact of our curriculum through: 
A reflection on standards achieved against the planned milestones outcomes.

A celebration of learning for each term, which demonstrates progression across the school. 

Pupil discussions about their learning, demonstrating their thoughts, ideas and evaluations of work.